X-Rite launches Color-Eye app for perfect color matching
Posted Wednesday, July 12, 2017 by Richard Harris, Executive Editor
---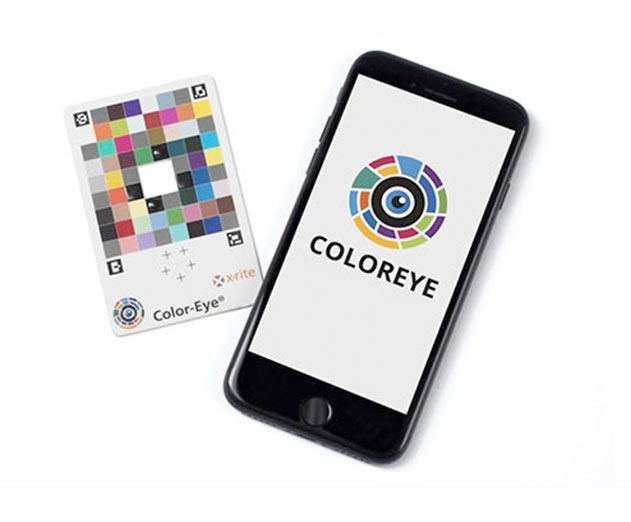 X-Rite Incorporated, a provider of color science and technology, and its subsidiary Pantone LLC, announced the launch of Color-Eye, a solution that brings accurate color measurement to smartphones and ecommerce applications. Color-Eye uses a smartphone and a color calibration card to help consumers shop for new items that match or complement the color of items they have at home. It delivers a high level of color consistency available in a consumer retail shopping application. Cosmetics, home and fashion and retail paint companies can integrate Color-Eye into their existing mobile shopping applications, allowing consumers to search, match and purchase goods with a high degree of color confidence.





X-Rite research shows that consumers lack confidence in purchasing color-critical items online. This uncertainty is typically due to past experiences which did not meet expectations and a difficulty in communicating color from home to store. Consumers expect to be able to simply take a photo of the inspiration color and match it to a desired item. However, digital camera technology alone cannot accurately determine an object's color, which is affected by lighting, glossiness, texture, angle of view, and sensitivity of the camera. Color calibration tools and color software are required to help overcome these challenges to provide a more color accurate image.




"Color is a deciding factor in a customer's purchasing decision and can be a leading cause for customer returns," said Chris Winczewski, Vice President, Strategy and Product Planning, X-Rite. "Color-Eye is the only solution on the market that incorporates both a color calibration card and software to ensure accurate color results

in a mobile application

. With Color-Eye, retailers will be able to help customers accurately match a paint color to a favorite pillow or accent piece, simply by capturing the color on a mobile device. This has the potential to reshape how consumers search, match and purchase goods such as apparel, home décor or cosmetics on mobile devices."



How Color-Eye Works
Color-Eye is a slim color calibration card that is used in collaboration with a smartphone application to accurately measure the color of any inspirational item. Color readings are incorporated into a retailer's
mobile shopping application
and deliver the consumer a set of matching or coordinating products.
Color-Eye utilizes X-Rite's expertise to calibrate color values across all lighting conditions. The application, in use with the smartphone, incorporates dual-illumination technology by taking two images with the flash on and off resulting in improved color accuracy. The calibration card is manufactured with a unique process that creates both glossy bubbles and patches to help account for lighting glare. Together the calibration card and the X-Rite software help prevent bad color matches due to poor lighting; and guides users as they position the phone to avoid glare. The result is a more reliable color reading that can communicate with a brand or retailer's ecommerce application and product database to deliver consumers matching or harmonizing products.
"Color-Eye builds on the success of the X-Rite CAPSUREme Cosmetic offering that uses custom printed cards and a smartphone to match skin tones with foundation colors," continues Winczewski. "With Color-Eye, we have taken this technology a step further to account for lighting, texture and gloss in order to reliably match any item a consumer may have at home to find coordinating colors. Color-Eye gives retailers and paint manufacturers the opportunity to build consumer trust by enabling greater confidence in color-critical purchases, both online and in-store. This increases consumer loyalty, reduces returns, and drives purchases of paint and beyond."
Color-Eye currently supports iPhone SE, 6S, 6S+, 7, 7+; Android Nexus 5; and Samsung Galaxy S6, S6 Edge, S7, S7 Edge, S7 Active. Additional devices will be supported in the future.
READ MORE:
http://www.xrite.com/categories/mobile-apps/colore...
---